Nov 27 - 29 - Sonnets and Soul Auditions
November 16, 2023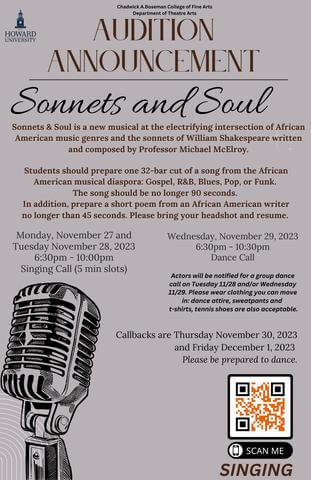 Sonnets & Soul is a new musical at the electrifying intersection of African American music genres and the sonnets of William Shakespeare written and composed by Professor Michael McElroy.
Students should prepare one 32-bar cut of a song from the African American musical diaspora: Gospel, R&B, Blues, Pop, or Funk. The song should be no longer 90 seconds.
In addition, prepare a short poem from an African American writer no longer than 45 seconds. Please bring your headshot and resume.
Monday, November 27 and Tuesday November 28, 2023 - 6:30pm - 10:00pm: Singing Call (5 min slots).
Wednesday, November 29, 2023, 6:30pm - 10:30pm: Dance Call.
Actors will be notified for a group dance call on Tuesday 11/28 and/or Wednesday 11/29.
Please wear clothing you can move in: dance attire, sweatpants and t-shirts, tennis shoes are also acceptable. Please be prepared to dance.
Callbacks are Thursday November 30, 2023 and Friday December 1, 2023.
Categories
Homepage Featured