History of the Gallery of Art
Dating from 1870 in its original form as the Historical Picture Gallery, the Howard University Gallery of Art was officially established in 1928 by action of the Board of Trustees to "make revolving exhibitions of contemporary arts and crafts available for visitation and study." The Gallery formally opened on April 7, 1930 with a traveling exhibition of oil paintings, watercolors, and drawings assembled and circulated by the College Art Association of America.
After the success of this exhibition, a policy and program leading to the development of a permanent collection was adopted. James V. Herring, founder of the Department of Art, and James A. Porter, internationally renowned art historian and critic, were the earliest directors.
Collections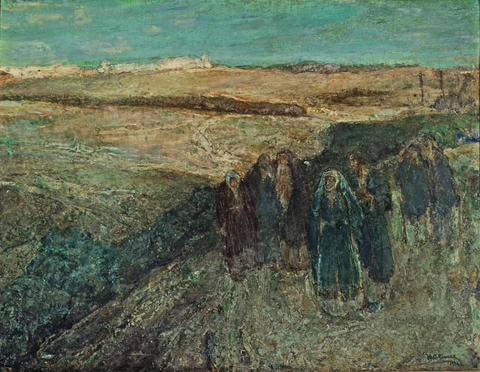 Henry O. Tanner's Return from the Crucifixion, an oil tempera painting, which is the last completed work of the artist, was one of the earliest acquisitions. This historic work is still a jewel of the collection. Since the initial acquisition, numerous purchases and gifts from friends and faculty of the University, private collectors, art foundations, and various branches of the federal government have entered the permanent collection. The artifacts of Alain Locke, the esteemed philosopher, began the encyclopedic collection of African artifacts, while the Kress Foundation set up the collection of Renaissance and Baroque paintings. Other significant contributions and acquisitions have included the Irving Gumbel Collection of European Prints from the 16th to the 19th centuries and the Walters Collection of African American art.